Join Us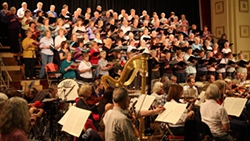 Rehearsals are held weekly from September to April at Whitby High School Hall, Sycamore Drive, Ellesmere Port, Cheshire from 7:30 to 9:30 pm on Monday evenings.
Visitors are welcome to the rehearsals and to 'try' the choir before joining.  There are no auditions, but a professional approach, a willingness to attend regularly and to benefit from all that rehearsals can offer, is a prerequisite for successful and enjoyable participation. Members are expected to attend a minimum of 75% of rehearsals, and are encouraged to practise at home.
Dress for concerts consists of dinner jackets with black bow tie (sometimes red or blue) for gentlemen.  Ladies wear long black skirts or black trousers with black long sleeved tops and a blue scarf.  Members are responsible for providing their own concert wear.  Coloured bow ties and scarves are available to buy.
Music may be hired or purchased from the Choir Librarian who will also advise which edition is being used This email address is being protected from spambots. You need JavaScript enabled to view it.
The annual subscription is £100.00 (applicable for 2019/20 season).  Details about payments by instalments, concessions and scholarships are available on request.  Members who pay income tax can help the society through the Gift Aid scheme.
Contact details can be found here.